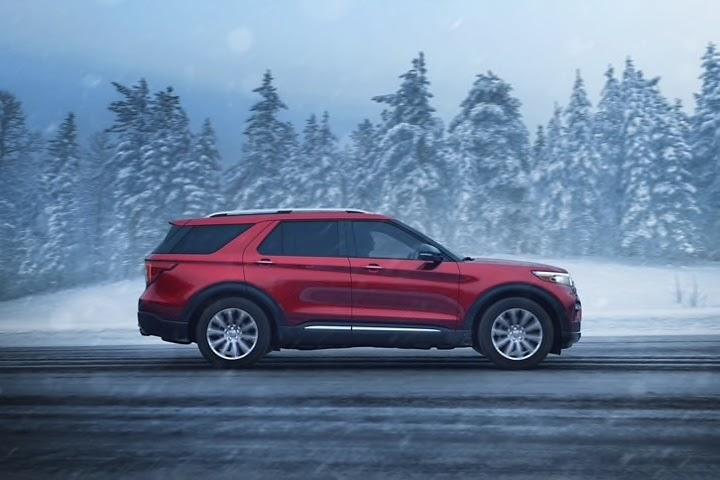 Although most technicians will tell you the best time to winterize your vehicle is when the temperatures begin to hover around freezing, it's never too late. If your vehicle hasn't given you trouble yet, that doesn't mean it's not going to.
Our talented and knowledgeable service technicians at Reliable Ford on Tower Street South in Fergus want you to know that winterizing is a critical step in staying safe through the winter. Call TODAY for a quick winterizing appointment that could mean the difference between getting home safe and sound and finding yourself stranded on a cold, dark Canadian road.
These are a few of the things our technicians will do to ensure you're safe, and a handful of things you can do, too.
Check Oil
Oil is an engine necessity. It keeps all the pistons and gears turning and the engine running smoothly. In warmer temperatures, engine oil is thick and works well; however, in the winter months, the typical viscous oil hardens in cold temperatures, making it more difficult to circulate to all the essential parts of your engine.
As temperatures continue to drop, be sure to ask your technician to change your oil from the one you typically use to one that's thinner or has a lower viscosity. If you change your oil on your own, look for a lower number in front of the W on the oil can; that's the one you need to get you through the cold winter months.
Check Tire Pressure
The manufacturers put their recommended tire pressure on a sticker placed inside the driver's side door. You'll want to be sure that your tires maintain a few points lower than the recommended levels during colder temperatures. Checking your air pressure isn't something you need to do every day, especially if you have sensors that will alert you when your air pressure is low in your tires. But to save yourself some headache on the road, we recommend you check all your tires before long trips, especially in inclement weather.
Check Fluids
Winter isn't the time you want to find yourself low on fluids. Make sure at your next 3000-mile oil change that you ask your technician to check all the fluids in your vehicle and refill them as necessary. Your technician may recommend adding antifreeze to your water-based fluids. That's a great idea, because antifreeze will keep those fluids from freezing in extreme temperatures. Radiator fluid, brake fluid, windshield wiper fluid, power steering fluid, and transmission fluid are among the fluids to check as we pass through the season.
Change Windshield Wipers
You probably won't notice that you need new windshield wipers - until you need them. Windshield wipers should be changed every 6-12 months. If you've heard that your wipers make a "schrup, schrup" noise while skidding across your windshield, or you've noticed small pieces of wiper blades missing or shredded, now is the time to change those blades! With advanced technologies available, windshield wiper companies are manufacturing wipers engineered explicitly for consistently freezing temperatures. You'll notice a vast improvement with this one small change!
Consider Winter Tires
Not so long ago, we called them snow tires. With advances in technologies, tires are now engineered for more than just traveling in snow. Winter tires are made with a more pliable material and work well on hard, cold surfaces, improving overall grip and traction. Although winter tires are more expensive, they can last three to four seasons with proper care and maintenance.
Pack an Emergency Kit
The emergency kit is often the most overlooked but vital piece of winterizing your vehicle. Especially if you travel with older adults or young children, having an emergency kit easily accessible to you without leaving your vehicle can make the difference in making a bad situation tolerable.
Grab a gym-sized bag, toss in a few essentials, and feel confident in knowing you've made every possible preparation for traveling safely through the season. In addition to jumper cables, spare tires, a jack, and an extra set of lug nuts, consider packing:
Water bottles and snacks: jerky, crackers, dried fruit, trail mix, hard candy

Blankets, extra warm socks, travel pillow

First aid kit: assorted bandages, gloves, gauze, tape, aspirin, antacids, tourniquet

Rectangle reflectors or road flares

Flashlight with extra batteries

Extra phone charger

Poncho

Duct tape

Moist towelettes, garbage bag, plastic ties

Whistle

Bandana
If you travel with young children:
Books, magazines, coloring books, and color crayons

Hand sanitizers

Children's fever reducer

Motion sickness bands (for unexpected car sickness)
Our Reliable Ford service technicians want to be sure you're prepared for any roadway contingency, especially when traveling in winter conditions.
We offer complimentary pick-up and drop-off service, so there is no reason not to have your vehicle winterized. Not only will it save you time, money, and irritation, it just may save your life. Make a service appointment online or by calling us TODAY.