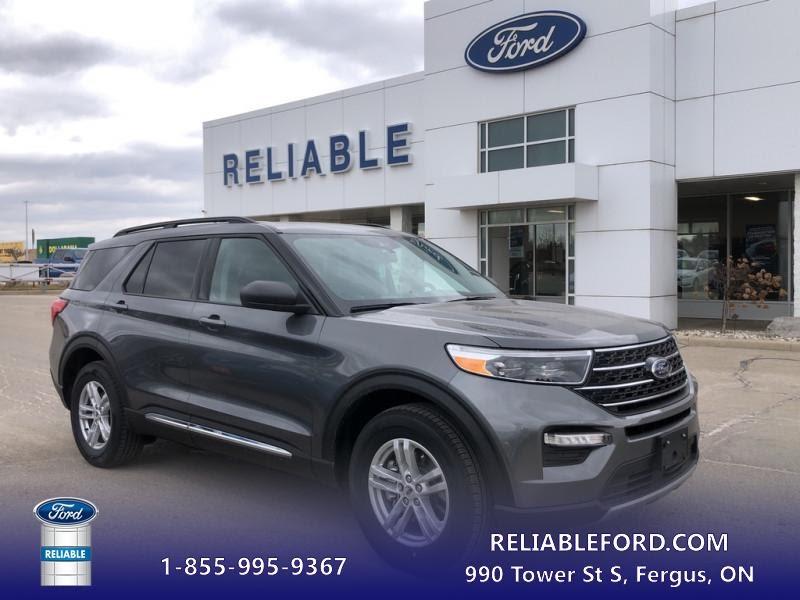 Like many parts of the world, Fergus, Ontario, sees extremely hot summer days, harsh winters, and approximately 25 inches of rainfall per year. On top of varied weather patterns, Fergus Ontario offers a lot to explore. Between Pierpoint and Blair Parks and Aboyne Trail, adventurers need a reliable, tough, and versatile vehicle to get them from Point A to Point B. That's why the team at Reliable Ford wants to send you home in a Ford Explorer today.
What's Under the Hood?
The Explorer is available in six models: the XLT, Limited, ST, King Ranch, Platinum, and Timberline. Depending on the model, this vehicle features either a 2.3L EcoBoost I-4 engine, 3.0L EcoBoost V6, or 3.3L Hybrid engine.
Depending on the engine size, the Ford Explorer has a minimum of 300 horsepower and 310 torque, all the way up to 400 horsepower and up to 380 torque. And based on the model, the Ford Explorer has up to 20.2 fuel tank capacity.
Capability
The Ford Explorer was designed with adventure in mind. It features steel underbody skid plates, which are designed to protect your vehicle from off-road conditions. This vehicle features a 4WD with Terrain Management System offering seven selectable drive modes, so your car is equipped to handle whatever terrain lies ahead.
The Ford Explorer also has Hill Descent Control, which helps drivers maintain their speed while making steep descents on off-road areas. It has also been designed to withstand heavy winds thanks to its side-wind stabilization, which comes standard on all models.
Technological Features
The Ford Explorer comes with Ford Co-Pilot 360 technology, which is designed to help minimize the risk of accidents. These features include:
Pre-collision assist with automatic emergency braking. With this system, your Ford Explorer will alert you of possible collisions with another vehicle or pedestrian and will automatically apply the brakes if you are unable to do so in time.

A rearview camera that features a built-in washer so it can stay clean and free of any dirt, snow, or debris that could affect your ability to see.

Automatic headlights, which will automatically turn on whenever the vehicle senses low-visibility conditions. Furthermore, the Ford Explorer will automatically adjust the brightness of your headlights when it senses oncoming drivers.

Blindspot alert, which will notify drivers when another vehicle is driving in your blind spot so you can know when it's safe to transition into another lane. This system will also notify you if there is oncoming traffic behind you as you begin to back out of a parking space or driveway.

Adaptive cruise control, which recognizes speed adjustments in traffic patterns and will automatically reduce your speed while maintaining a safe following distance from the vehicle ahead of you. This system also helps ensure that your Ford Explorer is maintaining speed in one lane, and keeps you from drifting into the center of two lanes.

Lane-keeping system, which will notify you if you begin drifting into another lane of traffic. If you continue to drift, a small coffee cup icon will appear, alerting you it's time to get off the road and take a break.

Active Park Assist 2.0, which will do the parallel parking for you. All drivers have to do is apply the brakes, put the car in neutral, click the Active Park Assist button and let the Ford Explorer do the rest.
The Ford Explorer also features SYNC 3, which has partnered with Amazon Alexa. With this feature, drivers can obtain driving directions, make purchases, and operate their cell phone's features with simple voice recognition technology.
This vehicle also features an in-vehicle Wi-Fi hotspot and a wireless charging pad for your phone and other electronics.
Adapting to the Road Ahead
With the Ford Explorer, you're ready for any kind of adventure. This vehicle features 87.8 cu. ft. of available cargo space behind the first row, 47.9 cu. ft. behind the second row, and 18.2 cu. ft. behind the third row.
With the ability to seat up to seven people, passengers in the second row will be able to enjoy 39" of legroom, or 32.2" of legroom if seated in the third row.
Drive Down to Reliable Ford in Fergus and Test Drive the 2021 Ford Explorer
The Ford Explorer is versatile enough to traverse a variety of terrains and keep drivers and passengers alert and entertained during their journey. With ample cargo room to bring your furry friends along and safety features that can give you peace of mind, the 2021 Ford Explorer is the perfect vehicle to act as your home away from home. Come on down to Fergus Reliable Ford to test drive a Ford Explorer today. Our reputation is in our name - we can't wait to help you discover the versatility and brilliance of this great vehicle. Our dealership is located at 990 Tower Street South, Fergus ON N1M 3N7.