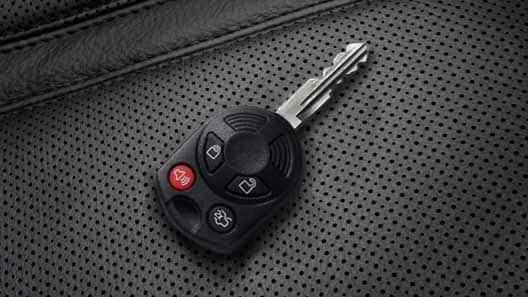 Our knowledgeable team at Reliable Ford understands if you have a first-time driver in the family, excitement is running high at your house! While your teen is counting down the days until you can come to the dealership, you may be wishing you could turn back the hands of time. We get it!
There are several safety features Ford has implemented in recent years that we know will help instill more confidence for all parties involved!
First-time car buying is a big deal and should be a happy memory. We want both first-time drivers and the folks who love them to have fun together at the dealership, making memories that will last a lifetime!
Ford MyKey Basics
Although your first-time driver may be skeptical of MyKey, we know that it saves lives. There is no getting around the fact that inexperienced drivers face a high crash risk.
If a crash occurs, one way we can lessen its severity is by implementing the Ford MyKey features that may give your novice behind the wheel the extra second or two they need to make a life-saving decision.
Ford MyKey is, at its simplest, a programmable key. This key comes with configurable and non-configurable options that control your vehicle's safety settings, even when you can't be behind the wheel.
Non-Configurable Safety Settings
Once you enable MyKey, these settings are automatically turned on and cannot be turned off or adjusted with the admin key:
Safety Belt Reminder. You've heard it a thousand times - seat belts save lives. Until the front seat passengers' safety belts are fastened, the alarm will sound and the audio system will remain muted.
Fuel Alerts. Running out of fuel happens to the best of us. You want your first-time driver to have every available opportunity to stop well before they are close to empty!
This sensor alerts at 75 miles from empty, instead of the standard alarm at 50 miles. Those extra miles allow your inexperienced driver to make a well-lit, smart choice for gassing up or recharging.
Auto-On Driver Assistance. Whether they want to admit it or not, novice drivers sometimes need a little extra help. (Sometimes we all need a little extra help!) If your vehicle is equipped with driver assistance technologies, like Lane Keeping System or Intelligent Adaptive Cruise Control features, these will be forced on so that your driver has extra "eyes" helping while they're on the road.
Configurable Safety Settings
You can adjust several MyKey settings with an admin key to suit your driver and your unique situation. You can also use the admin key to change the settings after you've completed the setup. Configurable safety settings include:
Vehicle Speed Limit. Set a maximum speed that the driver cannot override. It's essential to think through this feature before setting a maximum speed. Your driver should always have enough speed so they can manipulate the car safely. Discuss safe maximums with a trusted technician before deciding on your own.
When the set speed is met, the display will show warnings, followed by an audible tone.
Speed Minders. Let the tone remind your driver when they hit popular 45, 55, 65, or 75 mph speeds. When the MyKey driver exceeds a preselected speed, the speed will be shown in the display, followed by an audible tone.
Audio Presets. This is likely the least favorite setting among young drivers. The audio preset allows you to keep distractions at a minimum by setting the audio system at a maximum volume of 45%. When the MyKey driver tries to exceed the volume limit, a message will display.
Enable Help. You can set the MyKey to "always on" for Advance Trac (traction control), 911 Assist or Emergency Assist, or the Do Not Disturb feature. When "always on" is enabled, the MyKey driver is unable to switch them off.
About Us
Not only do we encourage first-time drivers to have a MyKey, but we also promote the full use and understanding of the Ford Co-Pilot360 safety features. Many of these life-saving tools are standard on all our makes and models. Some can be added to packages at the consumer's request.
Be sure to ask your Reliable Ford sales team member to walk you through all the safety features of the make and model you're most interested in. It's well worth your time to see all The Ford Company has to offer!
Visit us on Tower Street South, and let us show you all the ways Ford tries to keep you safe. You won't regret it!